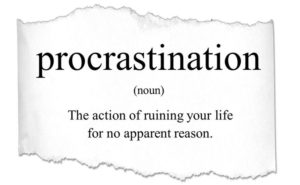 ---
Yeah, weekend is here. So, my usual schedule is not in place. I was busy the whole day, I couldn't write at lunch time. I'm also still figuring out, if lunch time is the optimal writing time. About an hour ago, I came home and decided to start writing. But I had many open windows and browser tabs on my computer, so I decided to first close all windows, ended all unnecessary programs and wrote a little to-do list for Monday. Then I was finally ready, but wait… I realised, that I also haven't emptied my trash can and the download directory was also kind of messy. Doing those few things took an hour in total.
One question from Tim Ferriss comes to my mind "Am I inventing things to do to avoid the important?". I think I definitely did. Waiting to start until I'm really, really ready. Sitting on my couch with my laptop in front of me is kind of super ready already, but I just wasn't ready enough.
Before I started writing today I saw this image on Brian Tracy's Instagram, which by the way was also part of the stuff I "needed" to do to be really ready. This will be my motivational quote for the next week.
When I started with my blogging a few days ago, I thought, this will help me to get more skills in writing, which eventually be the case, but the main takeaway this week is definitely, that I see my own behaviour very clear and I am not able to bullshit myself, because I have a responsibility to you to be honest. Thank you. I didn't expect that.
Have a great weekend!